Shadow of the Serpent
A Coyote Moon Story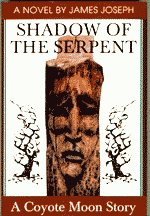 ISBN: 1-879418-80-0
©1997
Quality Paperback:
5 1/2" x 8 1/2"
423 Pages
Retail $14.95 US
Sale Price $7.95 US
EPILOGUE
To each shall come a sunset of painted sky, where the power of the rainbow dwells within all things. And each spirit shall soar from the shadows of the valley, and out over the highest mountains, to where the rainbow becomes one color and one light. Here, they will shine...and come to understand that light is all; darkness but a shadow. And a gentle breeze from the spirit of all things shall whisper to them:
"Breathe not the smoke of anger and bitterness for the gales to test man's spirit, lest ye yourself are capable of stirring the breath to all things in needed measure. Shrink not from the trials, pains and sufferings that stand where the spirit must tread, for without these, joy and pleasure would have no depth–wisdom, no source. Neither adore the praiseworthy nor condemn the stray, but recognize the consequence of action. Know that naivete lies not in trust but in distrust, for all things are but a part of one being. Understand that faith and lack of faith are one in the same, but in different directions. Consider that the wise man will follow his heart as well as his logic. Know that to serve the world around you is the sacred way to serve yourself and your kind."
Awaken to the new dawn and put a straight trail beneath your feet. Avoid the mazes of aimless wandering; there are seasons in all things for guidance. Likewise, look not to the darkness in puzzlement, but strive to see clearly in the light. Bring rainbows to your world instead of shadows of concealment. Reach out to the wilderness, for her justice is greater than we understand. Know that the prophet sees not only the future, but also that which once was, and shall come to pass again. See that the creation is not only that which happened long ago, but rather that which is always happening...always has, and forever shall be. Each sunset and each dawn will crave your care and your purpose in all things shall become self evident.
Teokahannah